The Doors of McMenamin's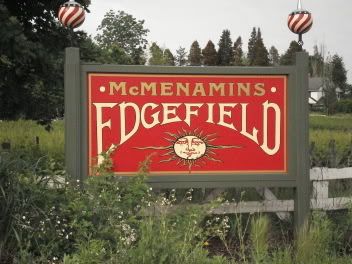 T

he history of McMenamin's Edgefield hotel in Troutedale, OR:



<20>As hard as it may be to believe today, Edgefield, built in 1911, served for several decades as the Multnomah County Poor Farm. Residents operated a self-sufficient environment, raising hogs, poultry, growing a variety of fruits and vegetables, operating a dairy, cannery and meat packing plant as well as working in the laundry, kitchen and hospital. 20>
In 1947, it was renamed the Multnomah County Home and Farm and in the late fifties the farm operation was eliminated. In 1962, the facility was renamed Edgefield Manor and for the last two decades of operation, functioned as a nursing home and eventually closed in 1982.
McMenamins purchased the property from Multnomah County in 1990. In phases lasting over four years, the condemned buildings and land were transformed into a unique European-style village, including lodging, a pub with a movie theater, fine dining, a winery, a brewery, distillery, golf course, gardens, vineyards, artwork, meeting, wedding and banquet space, and special events year round.
The historic Georgian-revival style Manor dominates the village atmosphere and is surrounded by numerous smaller buildings that now share a role in entertaining visitors. Local artists showcase their artwork on doors, walls, and ceilings celebrating the history of Edgefield and the Columbia Gorge. The sculpted grounds and gardens tie the 25 acres together, making Edgefield a warm, relaxing and enchanting place to visit.
The Troutedale, OR location of this
McMenamin's
was a former poor house. There are images of old photographs of the former residents wherever you turn in the hotel or on the grounds. On some of the doors below, you will notice that the artist named the room after a former resident.
Inside many of the rooms are hand-stencil borders that lead to a hand-lettered story on one wall that tells the guest a little about that former resident. One room we stayed in mentioned that the resident loved to feed the birds, no matter how inclement the weather. The bird theme was continued into the bathroom and around the rest of the bedroom. Antique and period furniture abound which allows the modern day guest a glimpse into what the world might have been like when this former poor house was in its hayday.
Most McMenamin's include several bars and an on-location brewery and winery, along with gardens, live entertainment and even a small movie theatre. Once you arrive on the property, they make it very difficult to leave! We thoroughly enjoyed our stay there which included one night at the beginning of our trip and then 2 nights at the end. We hope you enjoy the photos and artwork and we highly recommend that you stay in one of the locations if ever you find yourself in the greater Portland, OR area.